What is the Trade Manager EA?
The trade manager is an expert advisor designed to help you trade in a set and forget style. It provides you with a high level of semi-automation while still keeping you in control. Using this type of expert advisor keeps your account safe and helps you remove emotion. With just minutes per day and your WaveFX trading education, you can tell the trade manager what you think you are seeing. You can then leave your charts and if what you were seeing happens the trade manager will trade it. If what you were seeing does not happen then the trade manager will take no action until you return.
Learning How to Use the Trade Manager
A section of video lessons will show and explain how the trade manager works. All the settings are explained and there is an online manual which you can print to remind yourself of each input. The trade manager is also used in many trade videos so your understanding will be cemented further. You can also run this expert advisor in the backtester yourself for some high-speed learning of both the trade manager and trading itself.
The Trade Manager Tool Suite
The trade manager also has its own tool suite which interacts with it. The most useful is the trade manager remote which runs as a mini graphical user interface. This GUI will allow you to change some of the more useful inputs on the fly. The rest of the tool suite includes a series of scripts for instant trade manager control lines, instant orders, instant break-even, exit all orders, and various trigger options for predictive entries.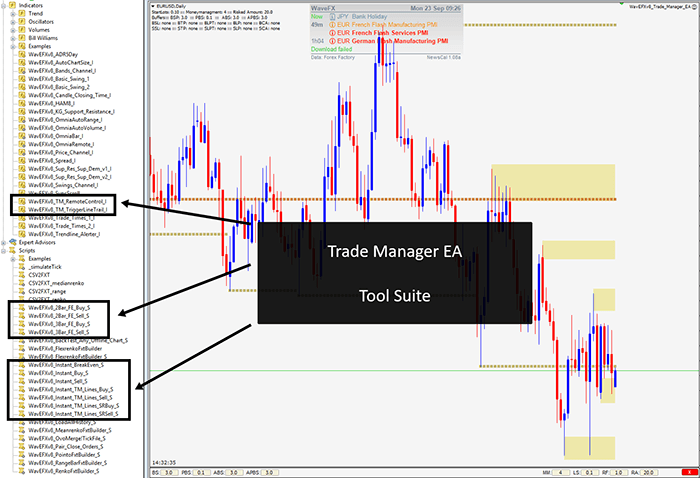 Watch Trade Manager Demonstration Videos Here